When Aisle Planner asked me, a wedding dance choreographer, for my point of view on taking dance lessons before your wedding, I felt like a little kid in a candy store with confetti bursting out of my soul. Planning a wedding has its top priorities and the majority of the time, dance lessons are not included on that checklist. But, it has been one of the most regretted decisions and can truly be one of the most valuable activities during your wedding planning process. Over the past 12 years that I have been creating movements through love stories, the feedback that I receive from my clients and their guests is incredible. It's an experience that they will remember for the rest of their lives.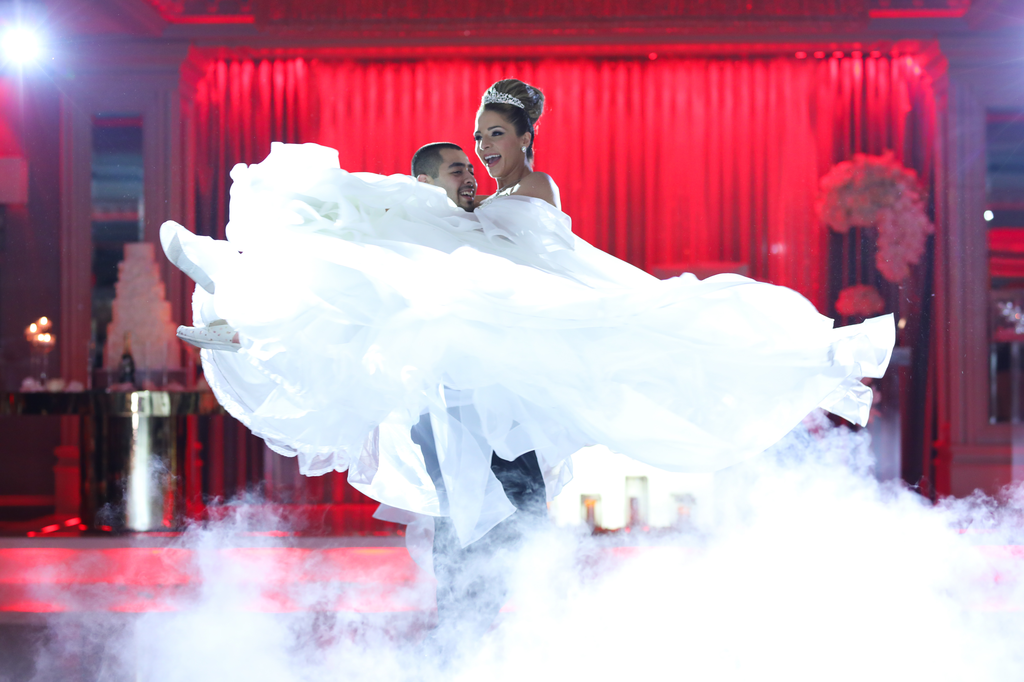 Photo Courtesy of AK.Photography
My Why for Taking Dance Lessons
I was at my cousins wedding watching their first dance and I noticed the guests would get up and leave as if it were an intermission. This made me really sad and the performer in me got a little offended. I vividly remember turning to my mom and telling her how upset I was about this and that I had noticed this reoccurring at so many weddings. At that moment, I realized how much I wanted to help. I knew I could get all eyes on the bride and groom with a beautiful contemporary dance. I was confident in all of my skills in my toolbox to be able to uniquely create choreography without compromising the client.
The Experience
I believe taking dance lessons for your wedding is one, if not the most, important gifts you can give yourself. Amongst all the wedding chaos, it's so easy to get lost in the midst of the stress and worry of planning. Doing something special together besides wedding planning creates a unique bond that can only be experienced through dance. Dance is not only a physical activity that is connected by steps, but it can also be great for you emotionally and mentally. By using your mind, body, and soul, you are evoking all of your senses to communicate something that was created through your energy. Having a passionate choreographer is the key to engineering a beautiful first dance. It allows your love for your partner to be reflected onto the dance floor, proving your vows to have and to hold from that moment on.
Over the years, I have seen a huge change in all of my couple's energy when taking dance lessons for their wedding. It was not just preparation for their first dance, but a shift in their confidence and in their relationship, both individually and together. One of the biggest stigmas in dance is that the men don't want to take lessons or they fear that they won't have fun. To be honest, I think this was one my favorite transformations. I would truly notice an increase in the groom's confidence in how they would walk, talk, and act. They were excited to come to dance classes and be engaged. It became an activity the couple looked forward to each week leading up to their big day.
I know dance can be one of the most intimidating skills to learn, especially, when life throws us crazy expectations. The last thing someone wants to learn is sassy coordination and memorizing rhythmic moves. I also know that it is one of the most fulfilling feelings that tickles the soul. Therefore, I know exactly how to break down the process in just a few simple steps so couples are ready to slay any dance floor.
I still remember the very first time I performed on stage. Things may fade, but the feeling of a dance performance will always be yours to feel. I am truly humbled to know that my clients have also experienced this same feeling. This experience will continue on past their first dance and into their future, with stronger intimacy and confidence.
To Have and To Hold
I'm thrilled more and more couples are seeing the value in taking dance lessons for their wedding and more wedding planners are making it a part of their priority checklist. This adds another dynamic asset to the wedding planners toolbox. Especially working with a niche-wedding choreographer, who is professional and passionate about their work.
Wedding planners who educate their clients about the beauty of a choreographed first dance became more valuable in the industry and to their clients. Clients that assume the first dance will pass quickly and no one will pay attention or remember, end up regretting not taking dance lessons. This is one of the most important and beautiful moments of the night that you are experiencing with your new partner. Yes, it's intimidating and all eyes are on you. So why not give your guests something to enjoy?
Let Me Bring Your Love Story to the Dance Floor
Being that I am a versatile dancer and come from a multi-cultural background, this allows me to connect with my students, audience, and clients in a deeper and personal level. I am able to ease the anxieties of my clients and students who are learning a new skill. Whether, it's to conquer their fear of learning how to dance, for a private event, or for their special day. I love making everyone feel special and confident, and what better way than learning how to dance? I am beyond proud to say, that through my perfect blend of styles and training, my dances have been crafted into beautiful dance stories. I hope that you are inspired to make dance part of your special night and I hope to bring your love to the dance floor.